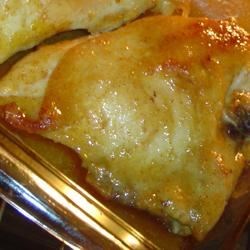 I know this is a pretty simplistic recipe, but as it sits in the other room and bakes, it smells so good I couldn't help but pass along the recipe Neil and I have now used several times when making easy baked chicken.
Honey Baked Chicken II (Submitted by B. Spradley)
Ingredients:
2/3 (3 pound) whole chicken, cut into pieces
2 tablespoons and 2 teaspoons prepared mustard
1/3 cup butter, melted
1/3 cup honey
3/4 tsp salt
3/4 tsp curry powder
Directions:
Preheat oven to 350 degrees F (175 degrees C).

Place chicken pieces in a shallow baking pan, skin side up. Combine the melted butter or margarine, honey, mustard, salt and curry powder and pour the mixture over the chicken. Bake in the preheated oven for 1 1/4 hours (75 minutes), basting every 15 minutes with pan drippings, until the chicken is nicely browned and tender and the juices run clear.